Paisley Residential Repairs
It had been years since we had experienced the power of a Hurricane, and even though Hurricane Floyd passed us by about 100 miles off our coast, he made his presence known here in Volusia County in a big way.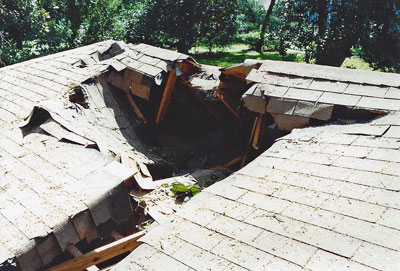 Susanne Paisley and her son Christopher spent the roughest part of the storm in a local shelter. When they came home, they found that the neighbor's oak tree had not been able to stand against the 55 mile per hour winds experienced in the neighborhood. The tree came down with a crash, right in the middle of their garage, causing tremendous damage.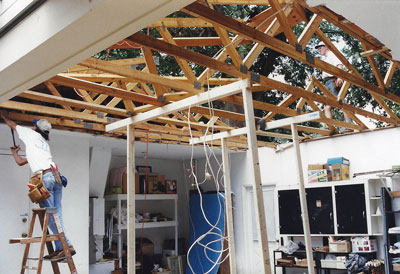 After the tree penetrated the roof deck, seven trusses were broken, along with the associated drywall and plaster ceiling. Electrical wiring for lights, switches, and also low voltage for the water to air unit and water pump system was also effected.
In order to repair the damage, the entire roof had to be opened from one exterior wall to the other. This required a lot of coordination to make sure that the existing structure would be protected against the elements.
In the end, the garage was put back together as good as new. Well… why don't we let you read the letter that we received from Susanne when all was said and done:
Dear Lloyd,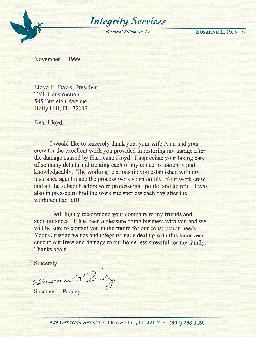 I would like to sincerely thank you, your wife Ann, and your crew for the excellent work you provided in restoring my garage after the damage caused by Hurricane Floyd. I appreciate your taking care of so many details and treating each of my concerns patiently and knowledgeably. The working relationship you established with my insurance agent made the process work so smoothly. Your work crew and all the subcontractors were professional, polite, and helpful. I was also impressed to find the work site spotless each day after the workmen had left!
I will highly recommend your company to my friends and acquaintances. It has been a pleasure doing business with you and we will be sure to contact you in the future for our construction needs. Your Christian values and integrity made dealing with this inconvenience to our lives and damage to our home less stressful for my family. Thanks again!
Sincerely,
Susanne L. Paisley

Other Residential Additions & Remodels