What Do People Say About TYL Construction?
We started Dr. Sandi Buchanan's office remodel with demo work on Good Friday. When we came in on the following Monday we found some great art work by her kids and a very nice note that read... "Thanks for all your hard work already! We appreciate your neatness. Enjoy the goodies and share amongst yourselves. Dr. B and Staff... Happy Easter"

Dr. Sandi Buchanan and Staff
Lloyd & Ann -

What can we say to express our gratitude & happiness with the way our home turned out? You turned a pumpkin into a beautiful house!

Working with you and your team was a pleasure and we will be forever thankful for all of the hard work and kindnesses you have shown us over the past months.

Thank you so very much for everything and we look forward to working with you again in the near future on our next "project"!

Fondly -

Dave & Priscilla Luppke
Thanking God over and over for you is not only a plesure; it's a must. II Thessalonias 1:3

Lloyd,

What a blessing you are. Thank you!

TYL Construction did a Fabulous Job!

God Bless!!

P.S. Rich says "Thanks for the marriage tip" (A Happy Wife is a Happy Life)

Marybeth Houghton
"The College has been very pleased with all the work TYL Construction has done for us. The projects have been well cordinated, completed in a timely fashion and within/or under budget. I look foward to continuing to work with TYL Construction and would confidently recommend your firm to others."
Sincerely,
Steve Selig
Construction Manager
Facilities Planning Department
Daytona State College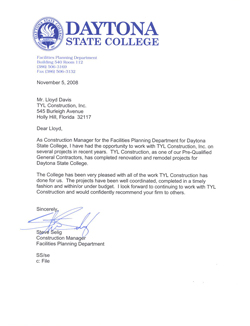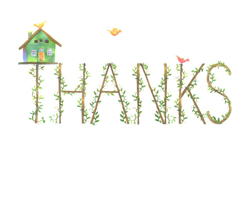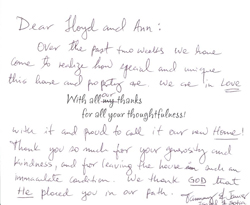 Dear Lloyd and Ann:
Over the past two weeks we have come to realize how special and unique this house and property are. We are in Love with it and proud to call it our new Home!
Thank you so much for your generosity and kindness, and for leaving the house in such an immaculate condition.
We thank GOD that He placed you in our path.
Tammy & Javier, Isabel & Sofia
Lloyd,
Many months have passed since the tornado swept through DeLand. As I stated at our Grand Reopening, we have fully recovered and have completed all repairs. This is largely due to the quick & efficient response of people like you.
I've included a copy of the DeLand Beacon, which showcased our opening as well as the businesses that made it possible. Please accept my gratitude for all your hard work.
Sincerely,
Todd Swann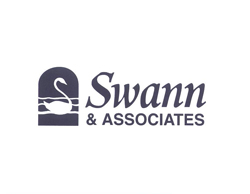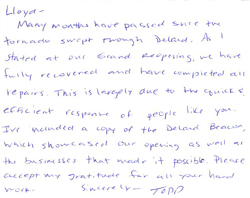 Mr. Davis,

Thank you so much for your generosity in assisting First Baptist Church with our Code Compliance Issues in recent days. Your help was not only timely but integral in getting our permits.

Please consider First Baptist a friend and we will remember you for future work. May the Lord bless you, your family and your business!

Sincerely,

Tim Mann, Interim Pastor
Dear Lloyd and Ann,

We hope the front of this card relays to you our feelings opposed to its tardiness. We are grateful to God for putting you in our path. Building a home can be overwhelming and frustrating, but it has also been fun and exciting to see the final creation appear.

Thanks to you, it has bee a pleasurable experience.

You are such a blessing!

God bless you both and TYL richly,

Connie & Dick Hahne
Lloyd -

Per & I wanted to thank you for the long close to allow this home to be ours. We are Thrilled! We love the nice touches throughout the home - and the plaque in the garage is so cool! That means so much to us. We also wanted to say thanks for the wonderful welcome letter & gift card.

Take care,

Per & Kim Schroeder
Bonjour Lloyd,

How are you? Hope you are doing well.

Thanks for pictures. We enjoyed very much.

(Note: The Stea's live in Canada while we are building their retirement home here in Daytona Beach and we have been sending them pictures via the Internet).

Our dream comes true. Thank God and thanks to you. We couldn't find anyone like you. You are an extraordinary man. At any time, we could put trust in you.

We just arrived and took a look at the house. It's more beautiful than we could imagine. Everything looks great and perfect. You made a wonderful job.

Thank you Lord for the wonderful house.

Thank you Lloyd for your generosity..

God bless,

Pierrette and Amede
This has to be the biggest Thank You note that we have ever gotten!

Jay & Janice Wilbanks
C & C Power Tools
Dear Mr. & Mrs. Davis,

We just wanted to Thank You. You built such a beautiful home, and we are so grateful that we are going to be able to call it our own. We are so blessed that we happened to go down that street that day. But, I'm sure there's a better explanation than that! We just wanted you to know how happy we are that you chose us, and we will surely not take this for granted.

Thanks again,

Billy, Christy, & Isabella Mills
HEY BROTHER.......

CONGRATULATIONS ON THE CHRYSALIS AWARD.

YOU DID A BEAUTIFUL JOB FOR THE LORD.

THE CHURCH RECEIVED THE BEAUTIFICATION AWARD LAST WEEK FROM THE CITY OF HOLLY HILL AND WE HAD 5 NEW ADDITIONS LAST SUNDAY.

.....ALL GLORY GOES TO HIM.

PASTOR GARY GOAD
FIRST BAPTIST CHURCH HOLLY HILL
We absolutely love getting cards like this that are "custom made with love".

This special card was made by Holly Hale after we completed a small job for her Mom, Katherine.
To: Lloyd and Ann, TYL Construction, Inc.

From: Peggy F. Bradley, Fennell Apartments

Re: Thank You, Lord

I continuously thank God for His guidance and wisdom on this project. I trust in Him and lean not unto my own understanding... acknowledging Him in all things as He directs my path.

Lloyd, thank you and your crew for the excellence as shown. I look forward to future projects with TYL.

God bless,

Peggy Bradley
Here is one of the nicest Thank You Notes that I think we have every received!

This is what Katie Daraio had to say after we finished a new room addition for her Dad's model trains!
"Lloyd,

Lydia, the girls and I would like to just say many thanks for your help during our difficult time after the fire and during Devin's medical crisis. We don't know what we would have done if we didn't have you and TYL to call on. The work was the very best!

Again, many thanks, and know we keep you, Ann and the boys in our prayers.

The community is very blessed to have you as a member.

God Bless,"

Mike Poniatowski and Family
"Dear Lloyd,

Just a note to Thank You for the wonderful job you and your crew did on my new roof. I am most appreciative.

It was a pleasure to meet you.

Take good care,"

Gloria Barkin
"Dear Lloyd & Ann,

Thank you for such a good job on my poor ole' roof. It was a blessing for me to know I was truly in good hands.

Thanks again - God bless..."

Carol Thompson
"Lloyd,

Thank you, and it has been such a pleasure having you work on my condo.

Your wife Ann is Great!

Thanks,"

Mardy Kelson
"Enclosed please find my check for the final payment for work on my home. Don Stafford did a terrific job, and I am 100% satisfied with your company's work. Please feel free to use me as a reference..."

Gary Walters
"'Thank You Lord' for leading us in making our wisest choice when hiring TYL Construction, Inc.

We are pleased with all the superior work done here, and the workers were polite, ambitious and perfect gentlemen.

Mr. Lloyd Davis, we ask God to give you successful years in construction in the coming years.

God Bless."

Michael and Tess Petras



"Thank you for building us such a beautiful Florida Room. We are so happy with it. You really made a dream come true that was almost a disaster. We hope you and your family have a Very Merry Christmas and Wonderful Year."

Mickey & Nina Pandelos
"I would like to sincerely thank you, your wife Ann, and your crew for the excellent work you provided in restoring my garage after the damage caused by Hurricane Floyd. I appreciate your taking care of so many details and treating each of my concerns patiently and knowledgeably. The working relationship you established with my insurance agent made the process work so smoothly. Your work crew and all the subcontractors were professional, polite, and helpful. I was also impressed to find the work site spotless each day after the workmen had left!

I will highly recommend your company to my friends and acquaintances. It has been a pleasure doing business with you and we will be sure to contact you in the future for our construction needs. Your Christian values and integrity made dealing with this inconvenience to our lives and damage to our home less stressful for my family.

Thanks again!"

Susanne Paisley