Pandelos Florida Room Addition
When Mickey and Nina Pandelos called TYL Construction, they were simply at their wits end. They had been trying to renovate their home with two additions for months, and had seemed to be hitting one road block after another.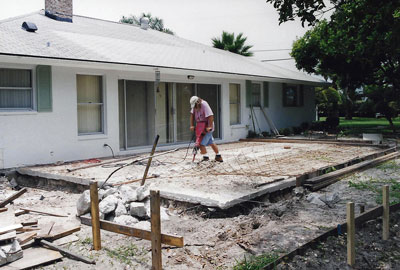 When Construction Started
After the first addition was finally completed, it would not pass the City inspection. Then with the 2nd addition footers dug, and many materials already purchased but not yet installed, more problems started coming to light. After many sleepless nights, they severed the ties with the handyman that was doing the work, and decided to give TYL Construction a try.
The Pandelos have a beautiful home with many personal touches. Immaculate is probably a better word for the way their home is kept. Spotless is another. Mickey is very proud to show off his garage which has a painted floor, wanes coating on the walls, mirrors, and painted pictures. It's really more like one of the bedrooms except that their red corvette sits in the middle of the room.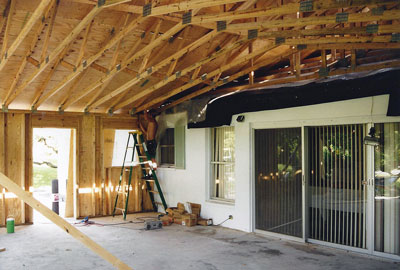 During Construction
Mickey and Nina like to do a lot of entertaining and wanted to add a 20' by 32' Florida room addition to the rear of the home. The addition would require removing the existing sliding glass doors on the rear and the opening up of another window for a pass through to the new bar area and opening another window for an additional walk through. Then the third window would need to be framed in and become a part of the wall.
The new addition is light and airy with a vaulted ceiling, two sets of double French doors, two sets of single French doors, windows on every wall, and fixed glass windows above the doors on the gabled end.
An entertainment area is the focus of the rear wall with Bose surround sound speakers completing the right media effect.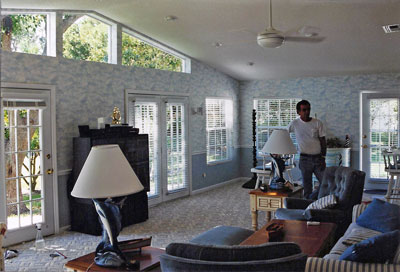 The Finished Product
Once the room was coming to a point of finish, Mickey didn't feel that it had all of the potential that he wanted it to live up to. That's when the interior columns were added and then extensive and detailed crown molding and chair rail molding installed.
In the end, Mickey and Nina were very pleased. They both couldn't say enough about how courteous our employees and subcontractors were while working on their home. Everyone did their very best to please Mickey and Nina and also to build something that they would be proud of.
Here is the note we received in the end, and quite honestly, we love to receive.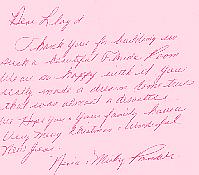 Dear Lloyd,
Thank you for building us such a beautiful Florida Room. We are so happy with it. You really made a dream come true that was almost a disaster. We hope you are your family have a Very Merry Christmas and Wonderful Year.

Nina & Mickey Pandelos
"Thank You Lord" for a successful and beautiful project!

Other Residential Additions & Remodels